DIRTY BOOTZ
Blues/Folk one-man-band – Montpellier, FR
FR – Dirty bootz est un one man band. Nourri au grunge, au punk des années 90 et aux grands classiques rock des années 60 et 70, il s'intéresse rapidement aux sonorités issues du blues de Skip James, Son House et bien d'autres références du country blues. Ces chanteurs guitaristes capables de se produire seuls  l'impressionnent. La découverte de Seasick Steve, l'incontournable N.Young et Elliott Smith l'encourage à se lancer à son tour en créant son propre blues inspiré de ses nombreux coups de cœur musicaux.
En amateur éclairé de B.O. de films, il propose une musique taillée pour les amoureux des grands espaces et des duels au soleil. Dirty bootz pousse un hurlement sans âge, entre rage et mélancolie, capable de vous transporter dans un monde imaginaire où les chercheurs d'or s'enivrent sous la lune, où les poètes déchus attendent le dernier train, où les hors-la-loi s'affrontent autour d'un feu de camp.
Un projet neuf aux mélodies puissantes et aux voix rocailleuses, à découvrir en live, sur le net et sur disque depuis la sortie de son premier EP.
ENGL : Dirty Bootz is a one-man band whose primary influences cover a large variety of styles : from the 60s and 70s rock classics to grunge and punk rock, with a special crush on Skip James, Son House and various other country blues names. Dirty Bootz always admired their skills and the way those singers and guitar players could perform on their own.
Following Neil Young's pace, Dirty Bootz fell in love with Seasick Steve and Elliott Smith. Quite naturally, he started working on his own personal type of blues.
Laced with huge melodies and belting rock vocals, Dirty Bootz transports us to a world where gold diggers drown their sorrows beneath moonlit skies, where fallen poets await their last train and outlaws come face-to-face around roaring camp-fires.
For lovers of the great outdoors and duels beneath the beating desert sun, this old cowboy has survived the age of rock'n'roll to push a timeless howl that dwells between visceral rage and heartfelt melancholy.
Dirty Bootz can be discovered live, online or on his self-titled début E.P.
DISCOGRAPHY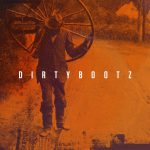 MUSIC