TANTRUM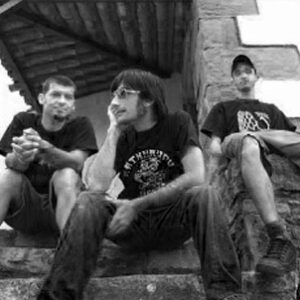 FR – Initialement sorti en 1997 sur le label Vicious Circle, Twisted In Anguish, le second album de Tantrum verra le jour à l'automne prochain pour la première fois en vinyle.
Remasterisé pour l'occasion par David Weber au Studio Des Forces Motrices à Genève (il avait enregistré cet album en 96). A l'origine Tantrum c'est la version hardcore du groupe de grunge sur-vitaminé Drive Blind . Plus Helmet, Unsane ou Today Is The Day, c'est l'exutoire du guitariste chanteur Pierre Viguier, accompagné sur ce disque par Nicolas Gromoff (batteur de Drive Blind) et de Jean Michel Gimenez (bassiste du trio noise de Sète, Beamtrap).
Tantrum a sorti une série de splits avec des groupes marquants de la scène française de l'époque : Belly Button, Knut, Epileptic, Beamtrap et a également tourné avec des figures du rock indé hexagonal comme Burning Heads, Seven Hate, Portobello Bones ou encore Condense.
9 titres rageurs qui vous sautent aux oreilles : un pan entier de la musique s'effondre pour mieux se reconstruire et se relever le point en l'air, la gueule en avant. Une guitare monolithique, une basse au groove monstrueux et une batterie métronomique, les autres n'ont qu'à bien se tenir, Tantrum est là pour en découdre. Arrivé à la fin du disque et à ce titre fédérateur, Fault (composé à deux basses)… il ne reste plus qu'une chose à faire : remettre la face A.
Si tu aimes : Helmet, Drive Blind, Unsane, Quicksand, Keelhaul…
ENG – Originaly released in 1997 on Vicious Circle, Twisted In Anguish, the second album by Tantrum will be released for the first time on vinyl next fall.
Freshly remastered for the occasion by David Weber at Studio Des Forces Motrices in Geneva (he recorded the album back in 96). Tantrum started as the hardcore twin of the grunge band Drive Blind under the influence of Helmet, Unsane or Today Is The Day, it can also be seen as the outlet of Pierre Viguier (guitar/vocals – Drive Blind), joined on this record by Nicolas Gromoff (drums – Drive Blind) and Jean-Michel Gimenez (bass – Beamtrap).
Tantrum released a long series of splits with the most significant bands of the french scene at that time : Belly Button, Knut, Epileptic, Beamtrap, and toured with Burning Heads, Seven Hate, Portobello Bones or Condense.
Nine raging songs that jump on your throat : an entire branch of music collapse and rise again, the fist in the air ! Monolithic guitars, monstrous bass groove and relentless drumming, Tantrum is ready to fight ! At the end of the record, « Fault » an unifying song written with two basses gives you that irrpressible urge to flip back the record to side A.
If you like : Helmet, Drive Blind, Unsane, Quicksand, Keelhaul…
DISCOGRAPHY